Old Chapel Hill Cemetery
The Old Chapel Hill Cemetery lies in the heart of Chapel Hill, North Carolina, on the corner of Country Club and South Roads, near the main campus of UNC.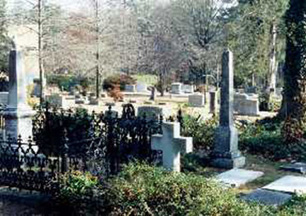 The site was part of a land grant given by the State of North Carolina in 1796 to develop the University, and the cemetery originally served as a final resting place for University faculty and students.
These days the cemetery is owned and maintained by the Town of Chapel Hill. As part of an extensive restoration project, the Town has commissioned an archival project to gather, preserve and make available documents relating to the history of the cemetery.
Learn more about the history of the cemetery.
Take an online tour of the cemetery.
Search our database of interments by last name.
Locate specific interments using this map.
Expand your research with other sources.