memorandum 5/19/06 12:26
to:                  Mayor and Town Council
from:            W. Calvin Horton, Town Manager
subject:      Map of Completed Streetscape Sections
date:            May 22, 2006
PURPOSE
The purpose of the attached map is to show sections of downtown where Streetscape improvements have been substantially completed.
DISCUSSION
Sections shown as completed on the attached map are areas where sidewalk improvements have been constructed since the Streetscape Master Plan was adopted.  On Franklin and Columbia Streets, where there is a 100' right-of-way width, these improvements typically include reconstructed wide sidewalks, underground utility conduits, site furnishings and either planters or street trees in tree grates.  In total, improvements have been completed in approximately 60% of the area where a wide right-of-way provides for comprehensive improvements. On Rosemary Street, sections shown as completed may include only a sidewalk, reflecting the limited right-of-way and less extensive improvements anticipated when the Master Plan was originally adopted.  These improvements have been completed for approximately 22% of Rosemary Street.
In some sections shown as completed the underground utility conduits are in place but the custom lighting has not yet been installed.  The original Master Plan also anticipated that mast arm signal poles would be installed at intersections but these improvements have been deferred.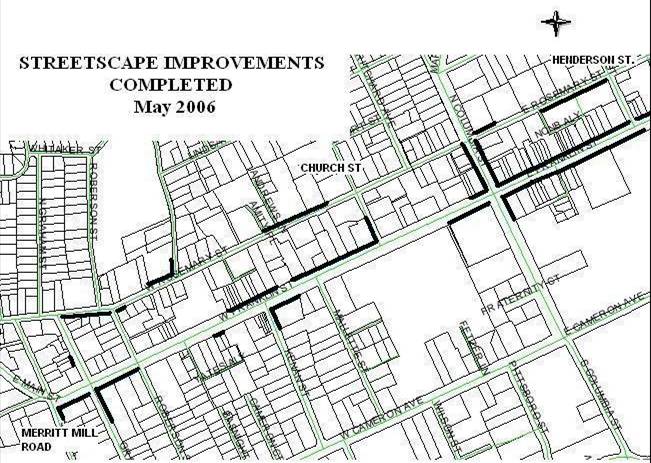 | | | | |
| --- | --- | --- | --- |
| Street | Length Completed | Total Length | Percent Complete |
| East Franklin | 1960 | 1960 | 100% |
| Columbia | 720 | 840 | 86% |
| West Franklin | 2000 | 5460 | 37% |
| Rosemary | 1630 | 7330 | 22% |